"Personal Tax Extension Form 4868 is due on Wednesday, April 15"
PERSONAL TAX EXTENSION FORM 4868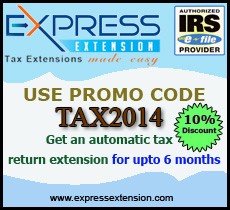 A Personal tax extension uses Form 4868, officially called an Application for Automatic Extension of Time to File U.S. Individual Income Tax Return.
If you don't think you'll be able to hit that dreaded April 15 deadline, you can get an extension easily by e-filing IRS Form 4868. The IRS will grant you an extra six months to file your new deadline will be October 15. Remember, this doesn't extend the time for payment if you owe anything to the IRS.
U.S. taxpayers who live and work abroad have an automatic two-month extension to file their tax returns, putting their filing deadline at June 16.
In order to E-file form 4868 i.e., a personal extension, you'll need your name, address, social security number. If you're married and filing jointly, you'll need the same information for your spouse.
Applicable forms for 4868 form
Form 1040
1040A
1040EZ
1040NR
1040NR-EZ
1040-PR(or)1040-SS.
Who may file Form 4868?
Personal Returns can be Filed by the Following:
All 1040 Personal Federal Returns
Sole Proprietorship
Single Member LLC's
What is needed for form 4868?
All that is needed for filing an IRS Form 4868 is basic information such as filing status, name, address, and social security number. Individuals must also know their estimated taxes owed. In some cases, an individual should consult with their Tax Professional before Filing for Extension.
How to file form 4868?
The Filing Process is easy and can be even easier if one elects to E-File. The IRS is heavily pushing the new E-Filing Process and many tax professionals believe that E-Filing will be required in the very near future. It is widely believed to be the safest, fastest, and easiest way to file a return. There is also no need to leave your office or home, to go to the Post Office. E-Filing Software is easy to find online.
One such provider is www.expressextension.com. It is very simple and takes just about 10 minutes to complete. Individuals also Receive a confirmation from the IRS once their application is processed.
Filing State Extension
In addition to E-Filing Federal Tax Extensions, you can also E-File State Tax Extensions with ExpressExtension. Once your Federal Tax Extension has been filed, you can choose "State Extension" from the dashboard.
ExpressExtension currently offers state extensions for Illinois, South Carolina and North Carolina. For all others states, we offer detailed information on how to file your state extension.